Home > En > In-our-offer > Sewing-room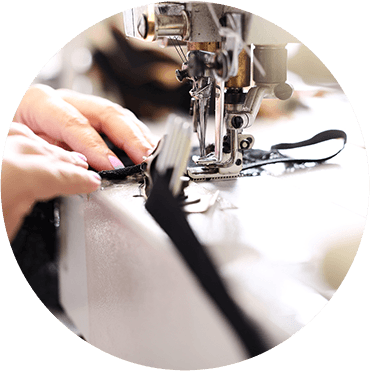 Sewing room
Our sewing room is equipped with sewing machines such as:
– double chain stitch machines, overlocks, quilting machines, and two-thread machines
– machines for flat seams – lapping machines
– specialist machines such as rubber coating machines, coverseam machine, strapping machine, button sewing machine, punching machine and tacking machines
– we also have SupremeSewbas machine for sewing repetitive designs.
The combination of such an extensive infrastructure of the sewing room with the experience and skills of our employees guarantees high quality sewn products and ensures the ability to manufacture a wide range of products such as: underwear, swimwear, dresses, cotton T-shirts, high-grammage sweatshirts and sweatpants, specialist sportswear, including the use of flat seams, combat sport shorts, bras and leggings for fitness, underwear for Arctic expeditions, etc.
Through extensive experience, we can say that we have no equal in knitwear sewing.
Our sewing room is still developing – the staff constantly work to improve their skills, and the machine facilities are extended according to the needs (of the company and the market). In addition to sewing machines, we also have ironing machines, transfer presses and riveting press machines.